More stories ...
Practice After Practice
by Pat Bishow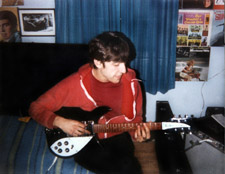 I was the original drummer for the Mosquitos. We practiced at Vance's and after the others left we would hang out in his room listening to his 45s. His collection wasn't just the usual hits, but included little known bands like his favorite, The Big Three.
His talent was amazing. He knew musical detail in even the most obscure tunes. His musical knowledge was a tremendous influence on me.
When I left the band I thought Vance was going to be the biggest thing ever. Everyone who knew him, knew he had something. We were all musicians hanging out and everyone (I mean everyone) put Vance at a higher level. There were some really talented folks hanging out - The Del Lords, King Missile, Smithereens and the Vipers. It was quite a scene back then. The one thing everyone agreed on was how talented Vance was as a singer, musician and songwriter.
A Mosquitos Music Video
This video is one of those things I barely remember doing. I can't believe it's out there now! See it to believe it -
A Lesson in Music History
There have been so many gifted artists in past decades. It's unthinkable to me that so few in music and the arts today are familiar with many of these names. I was at a Herman's Hermits sound check when Peter Noone mentioned Paul Robeson. No one in the theater knew who he was talking about ... and it was a performing arts theater! Paul Robeson was an amazing talent and an amazing man! Visit Paul Robeson: The Renaissance Man to learn more about Paul Robeson.