Here's some quick reads that will either make you laugh or cry. Some are from me, and some from friends along the way. Click on
to listen while you read and
to watch the videos.
This is NOW ... that was THEN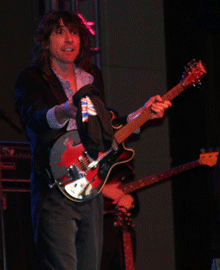 If you're a Herman's Hermits fan you may have seen me throw, or even caught one of the coveted t-shirts given away at shows. I had practice giving away t-shirts long before Herman's Hermits!

Awhile back a friend surprised me with something I never imagined I'd ever see again ... an original Mosquitos t-shirt! The shirt was found, where else, but on eBay!
Apparently a Mosquitos fan transplanted from the East Coast to Fresno, CA decided to do some Spring cleaning and put the shirt on eBay to see what it would bring. Since there was no knowledge of this among Mosquitos fans, there was only one bidder. Now the shirt is MY treasure and no one will EVER see it on eBay again! I will be meeting the eBay seller/Mosquitos fan at an upcoming show in California ... a personal thank you is in order for the wise decision to put the shirt on eBay!
My friend Pat Bishow, the original Mosquitos drummer, helped me recall the story behind this t-shirt that amazingly survived more than 20 years and made it back to me. He knew the story well because he and a couple other artistic friends were responsible for this go round of "low budget" marketing. The shirts were purchased in several colors at an odd lot store. They were so cheap, crummy and thin, we had to GIVE them away! Pat remembered what a mess it was when they did the silk screening in his garage. They had clothes lines running around the garage so the shirts would dry.
Click on the photo above to see the shirt "that was THEN." Anyone else out there have one of those Mosquitos shirts? Pat says he had a red one, but it fell apart. Maybe he'll bid, if another one shows up on eBay!