My answers in this interview are a more entertaining way to present my bio. Click on to listen while you read and to watch the videos. If you prefer the short version it's here.
When did you first sing, or have an interest in music?
In the womb! I don't ever remember not singing or being interested in music. When I was a kid I walked around singing
"Holly Jolly Christmas" even when it wasn't Christmas!
Have you always played the guitar? Did you play other instruments as a child?
I learned piano first, but I only had five lessons. After that I just noodled around on the piano for fun and learned to play by ear. The first song I remember picking out was
"Tired of Waiting" by The Kinks.
The guitar came after that.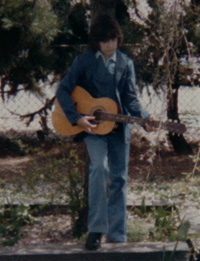 It's the old thrift store story. I picked up my own guitar probably when I was about eleven. My mom got me a little $15 acoustic guitar which I still have. It was a no name student size, small body guitar. The plainest acoustic guitar you could imagine.
Did anyone in your family have a music or performance background and how did this and your family's taste in music influence you?
My mom dabbled in show tunes - did musicals under the name Babbett Dupre. I think that was when she was in high school. My dad was an opera singer and historian. They always supported and encouraged me, but there was never any direct coaching. I've never been comfortable performing for family and didn't want them to come to my shows in the early days.
I'm sure an influence from the music I heard at home crept in. I wouldn't want to neutralize that influence. It's probably one reason why my taste in music is so eclectic. I go way back when it comes to music - back to Lawrence Welk
and John Raitt.

I like all kinds of music.